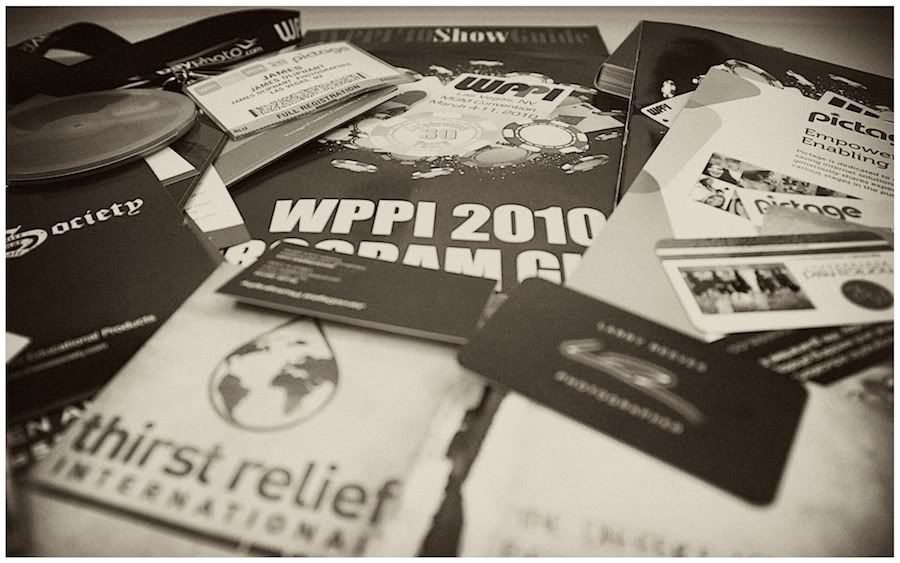 Sunday March 7th
great albums

met Joe Buissink while sitting in the audience, he was cordial

crowd was disrespectful and talk through a large part of the presentation

one jewel =

www.fundysos.com

album design software code: joephoto for 20% discount til april 15th
oh and another jewel was Las Vegas' John Michael Copper's wedding album...totally outside of the box...one of the best albums I've ever seen...
introduced myself to [b]ecker afterwards, very nice and personable...

approached another "well known" photog afterwards, clearly blew me off which prompted me to tweet the maya angelou quote..."

We learned that people will forget what you said, people will forget what you did, but people will never forget how you made them feel." ...not nice, and we all know NICE goes a long way with me....I'll never forget...
awesome presentation and I'm not just saying that because she's from Chicago

simple natural light use...

spot metering

Nikon D700 +1 Vivid

prime lenses only = 85mm 1.4, 50mm 1.4, 105mm?

process aperture crack wide open...iso 400 always....only shifts her shutter speed

uses photoshop minimal...color balance, luminosity, curves, layer of soflight...

online gallery 7 days, but gives 9 for client to order...$65 dollars to repost

does not use shopping carts, all orders are place through the studio

uses buckeye lab

whatever is not ordered is purged unless they order a book

met Yervant in the hall afterwards, he was very nice...invited me to Graphi's party...
great presentation, would have worked better in a more intimate session
WPPI & CANON WELCOME RECEPTION
too crowded for me, went home....
i like this aussie

six time winner of the WPPI Wedding album of the Year Award

displayed an album chronology dated back to 1999 (he's come a long way...lol)

shared his pricing structure and dos and dont's for album design

continues to re-invent himself

continues to shoot jpeg
later that afternoon...
As I was headed to the
Pictage
booth, I ran into
Matthew Jordan Smith
. Walked up and introduced myself. Clearly a gentleman and very humble. It was nice to share a moment with him....moving right along....
Mike Colon
,
Ray Santana
and
Kenny Kim
were speaking at the Pictage booth. It was great to meet them all, considering we've been tweeting and fb'ing back and forth for the past year or so. Hell, I wouldn't be shooting weddings again if it weren't for Mike. They were giving a truncated version of Cause Marketing that will be featured on Tuesday night's platform.
I then headed out to witness [b]ecker shoot his annual WPPI headshot session. He wanted to shoot a hundred headshots in an hour. It was kewl to watch him work, I even sat for headshot myself...lol...I think [b]ecker produces some of the best images in the business...
I was pretty much done after that...I headed back home....
Totally bummed that I missed local photog John Michael Cooper's platform...sorry John & Dalisa, hope it was a great experience for all....
ya just gotta feel for this guy, his australian studio has flooded twice within the last year...

great presentation along with his wife

shared some awesome albums, he's clearly and artist that happens to be a wedding photographer

his wife, Anie provided some great info on pricing your talent before anything else

yervant shared a technique he may use which involves video capture and rip the stills from video for the wedding album, kinda neat allowing a photog to be in two or three places at one time...

overall a very informative presentation
Dane Sanders & Elizabeth Messina were also schedule during this time...who scheduled this thing??? :-)
later that evening...much later...
I attended
Mike Colon
and
Jim Davis-Hicks
presentation of The Marriage of Profit & Purpose...got there and hour early and heard the last of the great
Jay Maisel's
presentation, Jay was big influence in my younger years....so after Jay is done I move up front only to be told that I had to leave the room and line up outside...oh how pissed I was...I felt like was outside a trendy New York nightclub, someone needs to talk to WPPI about this. I'm more akin to the Southwest Airlines method of first come, first served. I guess it wasn't too bad because even though I was probably a hundred people deep into the line I managed to get the same seat.
Mike and Jim gave a thought provoking presentation on
Thirst Relief
, shooting to give and giving to shoot with no intention for a return, but the returns become substantial because helping others for purely altruistic means has led to a more profitable business, essentially "Cause Marketing."
I finally hit the Trade-show floor. My first thought is that it reminded me a of flee market with really really kewl stuff... I spent most of the time observing others and watching people interact.
The only highlight was Becker's presentation at
WHCC
. They've managed to put together one of the best shopping cart experiences I've ever seen for a photog. Spoke with [b]ecker for a bit afterwards, he enlightened me about a few vendors who will remain nameless for this blog, but if you see or talk to him just ask, he doesn't bite his tongue for anyone and that's why I like the guy...just as real as can [ b ]....
Photo Ignite
presented by
Kevin Kubota
was a unique experience in that involved 15-20 photogs presenting 20 slides within 5 minutes. The presentation were geared towards the fellow photog improving his/her business, etc., Stand-outs for me were
Jessica Claire
,
Jules Bianchi & Joy Bianchi Brown
, Kevin Kubota,
Riz Crescini
,
Scott Bourne
, Becker and Jerry Ghionis. Jerry shared his singing chops to the tune of Gloria Gaynor's disco classic, I will Survive....as long as we don't shoot and burn, I know we'll stay alive....
Overall a very memorable and invaluable experience....I made some new friends in the business, managed to learn a few things and I'm totally inspired :-) ...cya' next year.